Mon., Sept. 23, 2013, 9:23 a.m.
Breast Cancer Fight Personal For Teen
When Kellogg High School senior Jessica Margason decided to put together a team for the Susan G. Komen Race for the Cure, the fundraising goal of $1,000 seemed daunting. Headed into Sunday's race in Coeur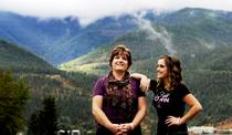 d'Alene, her team, Infinite Love, has raised about $5,000. No other team has come close to that tally in this year's North Idaho fundraiser for breast health programs supported by the Komen Foundation. "I didn't really realize how big it was going to get," said Margason, who lives in Silverton, Idaho, and plans to become a dental hygienist. Her hard work has caught the attention of Komen's Idaho affiliate based in Boise. "We're big fans of hers," mission manager Jodi Brawley said. "She is kind of a role model for everybody else who's fundraising. She represents us and she represents the cause really well"/Scott Maben, SR. More here. (Kathy Plonka SR photo: Jessica Margason and her mother, Diana Margason, who is a two-time breast cancer survivor)
Question: Do you know of someone who is a breast cancer survivor?
---
---