Mon., Sept. 23, 2013, 9:07 a.m.
For Hoffman, Charity Begins At Home
Idaho Freedom Foundation President Wayne Hoffman is a stalwart defender of the private enterprise system. Government, he says, should not pick "which companies to help and force the rest of us to pay the bill. The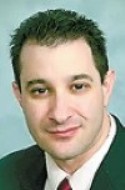 government should leave the marketplace alone, and let companies prosper or fail on their own merits. "Except, of course, when it comes to the Idaho Freedom Foundation. As the Spokesman-Review's Betsy Russell reported, IFF is organized under Internal Revenue Code section 501(c)(3) - the same section utilized by charities. Anyone who contributes to a 501(c)(3) can deduct the donation from his income taxes. In exchange, a 501(c)(3) operates under restrictions. A big one in Hoffman's case involves lobbying. He's not supposed to do much of it. That's why Idaho's major lobbies settle for nonprofit status but don't offer their donors a tax deduction. Obviously, Hoffman is a lobbyist/Marty Trillhaase, Lewiston Tribune. More here.
Thoughts?
---
---