Mon., Sept. 23, 2013, 8:36 a.m.
Liberty Caucus Dreams Of Nullification
State rights were a common theme among many of the break-out session at the Republican Liberty Caucus of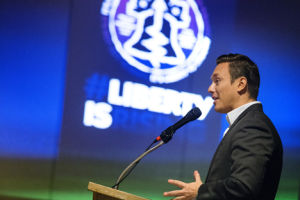 Idaho's Liberty Expo on Saturday - specifically the need to exercise nullification. About 100 people turned out for the event that was held all day at the Best Western Plus Coeur d'Alene Inn. They listened to dozens of 10th amendment experts and legislators discuss issues ranging from the media's coverage of federal issues to gun rights. There were sessions on how to effectively lobby the legislature and motivate grassroots activism. But in nearly every discussion the issue of nullification of federal laws came to the forefront and many expressed how frustrated they are that Idaho won't even go there. Many lawmakers say that the word itself is a political lightning rod making it difficult for them to even bring up. "It really, in my mind, is a polarizing term, but as I look around here, we are preaching to the choir," said Idaho State Rep. Vito Barbieri, R-Dalton Gardens. "We know here that it is not an offensive term"/Jeff Selle, Coeur d'Alene Press. More here. (Gabe Green's Coeur d'Alene Press photo: Ben Swann, a two-time Emmy award winning broadcast journalist, speaks about mainstream and alternative media Saturday)
Question: What does it say to you that the Liberty Caucus of the Republican Party considers nullification of federal laws to be a real objective?
---
---