Mon., Sept. 23, 2013, 8:41 a.m.
Lousy Time For Food Stamp Cut
Ten bucks a month. That's roughly the size of cut that each person who receives government food aid is facing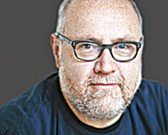 in five weeks. Your response to this cut may vary, and may reveal something about your understanding of what it's like to need food stamps. It may seem small, this 10 bucks a month. For some of us, it wouldn't cover condiments. But if you've ever struggled to put food on the table – ever walked that thin line where the grocery check lives dangerously close to the checkbook balance – then you might recognize that 10 bucks can be significant. If you've ever relied upon food stamps yourself, you realize that 10 bucks is more than significant. According to the federal guidelines used to determine benefits, it covers more than five meals. That would be one way to look at it/Shawn Vestal, SR. More here.
Question: Is this a good time for House Republicans to try to cut food stamps?
---
---