WEDNESDAY, SEPT. 25, 2013, 8:13 A.M.
CPD Honors Retiring Chief Longo
Except for bad guys who've had him at their heels in a foot pursuit, Coeur d'Alene Police Chief Wayne Longo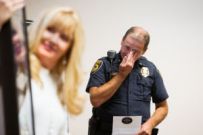 comes across as about the nicest guy in town. On Tuesday at the Coeur d'Alene Police Department headquarters, Longo, 60, was celebrated by his peers on the eve of his retirement. His last day in office is Friday. Wiping away a tear or two here and there, Longo said being the chief the past six years was the crowning achievement of his career. "I've always felt like I've been one of you, working side-by-side with you," Longo told a conference room full of officers, department support staff and volunteers. "I never felt like I was any better." He added: "I couldn't think of any better way to end my career than working with all of you"/David Cole, Coeur d'Alene Press. More here. (Shawn Gust CdA Press photo: Coeur d'Alene Police Chief Wayne Longo is emotional during a presentation by Sgt. Christie Wood on Tuesday during a retirement celebration)
Question: I wouldn't want to be the Coeur d'Alene police chief to try to fill Wayne Longo's shoes, would you?
---
---