Wed., Sept. 25, 2013, 8:09 a.m.
XXXtreme Espresso Draws Protest
More than 200 people filled Spokane Valley City Council chambers and packed the hallways Tuesday to ask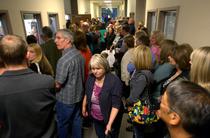 elected officials to force lingerie-clad baristas at nearby XXXtreme Espresso to cover up or move to a location out of the sight of children. Protesters said they think the laws pertaining to adult entertainment venues should apply to the drive-thru coffee stand in the 11700 block of East Sprague Avenue. "We're here to support our concern for the community," said Valley resident Dena Tucker. "We've chosen to live in a family-oriented community. We want our community to stay a safe place for our children. We are petitioning our City Council to address our concerns and the city codes." The stand came to the forefront of community awareness when a sign recently posted out front read: "Topless Tuesdays and Thursdays." On those days, the baristas wear star-shaped pasties/Jody Lawrence-Turner, SR. More here. (Colin Mulvany SR photo: Part of crowd that attended Spokane Valley City Council meeting to protest XXXtreme Espresso)
Question: Would you contact your elected city officials if XXXtreme Espresso tried to locate in your North Idaho community?
---
---