Tue., April 1, 2014, 8:17 a.m.
Attorneys Weed Out Gerlach Jurors
The list of possible jurors in Gail Gerlach's (pictured) manslaughter trial shrank Monday as attorneys weeded out people with strong opinions in a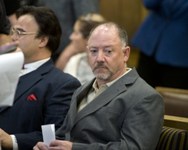 widely publicized case that touches on self-defense and the appropriate use of force to stop property theft. Jury selection continues today along with a series of legal arguments, including one centering on whether the jury can be told of the criminal history of Brendon Kaluza-Graham, the 25-year-old who stole Gerlach's idling SUV from his driveway. Gerlach then shot and killed Kaluza-Graham as the SUV sped away in north Spokane. Monday began with about 100 potential jurors filling the courtroom presided over by Superior Court Judge Annette Plese. Several said they had heard a lot about the case/Kip Hill, SR. More here. (SR file photo)
Question: No matter how this trial turns out, is there a lesson to be learned here re: a civilian drawing a gun and firing at someone?
---
---