Tue., April 1, 2014, 9:01 a.m.
Beware Of Health-Conscious Eating
She wasn't eating kale smoothies because she loved them, and she never thought becoming anorexic would make her prettier. Anna, a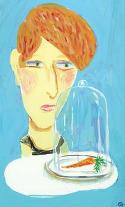 junior at a Spokane high school, set out on a path toward an eating disorder by trying to eat healthier. Fueled partly by a desire to be a better athlete, influenced by a family member who emphasized a health-conscious, "very organic, very raw" diet, Anna traded junk food for a strict diet the summer before her sophomore year. Along with smoothies (the kale was organic), she ate vegetable salads, but no dressing (fat was bad) and no croutons (carbs were bad). She ate edamame and rice (brown rice, never white). And once a week, she treated herself to a quarter-cup of granola. Orthorexia is often described as an "unhealthy obsession" with healthy eating – a fixation on the quality of food, rather than the quantity/Adrian Rogers, SR. More here. (SR graphic: Molly Quinn)
Question: Do you eat healthy? Too healthy?
---
---