Tue., April 1, 2014, 8:15 a.m.
Coldwater Creek Near Bankruptcy
Women's apparel retailer Coldwater Creek Inc. could file for bankruptcy within a week as it struggles with high debt and declining sales,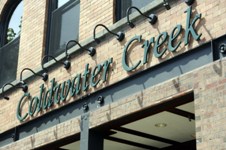 according to Reuters citing a Wall Street Journal report. The company's shares fell as much as 76 percent in early trading Monday, according to the WSJ report, citing people familiar with the matter. Attempts to avoid a bankruptcy filing by refinancing debt or selling itself to a private-equity buyer were unsuccessful, the sources told the Journal. Coldwater Creek was not immediately available for comment, according to the WSJ story. Sales fell 18 percent to $154.5 million in the third quarter ended Nov. 2, while same-store sales declined 16.8 percent. The company's net loss widened to $23.8 million, or 78 cents per share, from $20.5 million, or 67 cents per share, a year earlier/Coeur d'Alene Press. More here. (SR file photo)
Thoughts?
---
---