Tue., April 1, 2014, 4:13 p.m.
Idaho Wages Aren't Keeping Up
Idaho's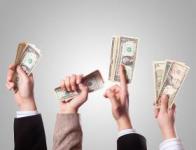 average wage increased by almost 20 cents last year. But wage growth isn't keeping up with the national average. The U.S. Bureau of Labor Statistics' Occupational Employment Survey finds Idaho's average hourly wage for all jobs was $18.67 last year, that's up 19 cents from 2012. Still, Idaho's average wage was almost 84 percent of the national average, which is $22.33 an hour. The survey also found that half of Idaho's hourly employees earned $14.68 or less in 2013. That's a 10 cent increase from 2012/Samantha Wright, Boise State Public Radio. More here. (Photo: Credit 401(K)2013 / Flickr Creative Commons)
Question: Well, at least Idaho is the fourth least likely state to be overrun during the Zombie Apocalypse, right?
---
---