Tue., April 1, 2014, 4:25 p.m.
Obamacare Signups Beat Projections
With an I-told-you-so swagger, President Obama said Tuesday that 7.1 million Americans signed up for health insurance by Monday's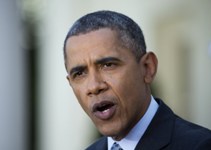 deadline - exceeding the original White House goal under Obamacare. "In the first six months, we've taken a big step forward," he said amid cheers of supporters in the White House Rose Garden. "The truth is even more want to sign up." The 7.1 million sign-up figure does not include anyone who enrolled Monday in 14 states with their own online insurance marketplaces. Nor does it count those who will be allowed to exploit an extension of the deadline if they couldn't complete applications by the deadline due to website problems/New York Daily News. More here. (AP photo)
Question: Health exchange signups in Idaho beat projections, too. Could it be previously uninsured individuals see the value in Obamacare -- and that it won't be such a winning issue for Republicans this year?
---
---