Tue., April 1, 2014, 4:47 p.m.
Top Story: Idaho Prioritizes Wolf Kills
Today's Top Story (w/18 comments):
You have to wonder when Idaho will finally get its fill of killing wolves. The most likely answer is never, mostly because the state will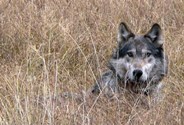 probably be stopped short of its ultimate goal and back off its eradication efforts when the species' population dips down to about 150 or 10 breeding pairs - anything below that, officials fear, may encourage the federal government to step back in.To put that population number in perspective, just five short years ago the predator's numbers in Idaho were believed to be around 1,000. Many groups estimate the current population to be in the neighborhood of 500. You have to give Idaho some credit for that feat. While the Legislature and Gov. C.L. "Butch" Otter are incapable of adequately funding a proper education system or attracting business and shedding Idaho of the distinction of having the nation's highest number of minimum-wage workers per capita, they certainly know how to slaughter wolves/Devin Rokyta, Moscow-Pullman Daily News. More here.
Question: Is it fair to compare money spent to eradicate wolves to money not spent to support education?
---
---