Tue., April 1, 2014, 8:31 a.m.
Otter To Make It Official Wednesday
Governor C.L. "Butch" Otter will officially announce his re-election campaign with a tour across the state on Wednesday. Gov. Otter will be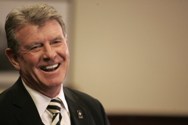 visiting businesses in Meridian, Twin Falls, Idaho Falls and Coeur d'Alene. These events are open to the public and members of the media will have the opportunity for a brief Q&A with the Governor at each location. "It has been my honor to serve the people of Idaho as Governor. We have accomplished great things over the past seven years, but my work is not yet complete," said Otter. "We need to continue to make sure we are preparing Idaho's workforce for a more competitive future, and that there are career opportunities available here so our citizens and communities can prosper." Otter will make his announcement in Kootenai County at AGC AeroComposites, 10413 N Aero Drive, Hayden. The following North Idaho legislators support Otter: Sens. John Goedde and Shawn Keough; and Reps. Eric Anderson, Frank Henderson, Luke Malek and Ed Morse.
Question: Izzit just me or does the governor's race provide a good line a demarcation between the Right and Far Right in this area? The Right supports the incumbent. The Far Right supports state Sen. Russ Fulcher.
---
---