Wed., April 2, 2014, 9:16 a.m.
Alexie's 'Part-Time Indian' Gets Boot
School trustees decided in a 2-1 vote "to look for a suitable replacement" for a book that drew more than a hundred people to a Meridian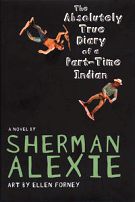 school board meeting Tuesday night. The body was mulling over a committee's recommendation to keep "The Absolutely True Diary of a Part-Time Indian" as an option on the reading list. During the public's opportunity to speak, one person called the book "verbal pornography" that "poisons the mind," while others said "Diary" told a story about a boy who finds education is his escape from poverty. Parent Bonnie Stiles said she counted 133 "filthy words in this book that we do not speak in our home, that I'm sure you do not speak in your homes." Some of the 50 or so speakers who each had three minutes to address the school board said the book about a young Indian growing up on a reservation has literary merit/KBOI2. More here. (Wikipedia photo)
Question: How many books have you read by Sherman Alexie?
---
---