Wed., April 2, 2014, 11 a.m.
Fulcher: Otter 'Real World' Hurts Idaho
Senator Russ Fulcher today released a gut check on the realities of Governor Otter's tenure. "Idaho sits at or near the bottom in several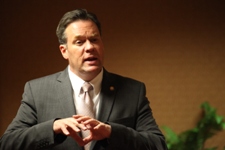 economic indicators. We are tops in the nation for minimum wage jobs. Although, the governor calls the minimum wage an Idahoan's 'real world experience', Idahoans would much prefer to have an economy with high wage job opportunities." Fulcher continued, "Idaho ranks 47th in the nation for average wage; our people have had enough of this "real world experience" and want leadership that cares enough about their future to have a vision for the state"/Russ Fulcher for Governor news release. More here.
Question: Fulcher makes some decent points. Under Otter's watch, Idaho has sunk to the bottom or near the bottom in the percentage of minimum wage jobs, teach salaries, per capita student spending and average wages. Thoughts?
---
---