Wed., April 2, 2014, 1:40 p.m.
Treasurer Candidate Raises Questions
Steve Matheson, a Republican candidate for Kootenai County treasurer, raised interesting question in a recent op-ed article in the Coeur d'Alene Press: "Recent allegations of negligence and fraud being perpetrated by the Idaho State Treasurer caused me to think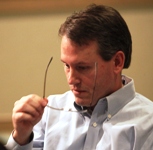 about the investments overseen by the Kootenai County Treasurer's Office. Out of professional curiosity, I made inquiries as to the safety and soundness of taxpayers' cash and investments controlled by the Treasurer's Office ($147,388,641 as of Dec. 31, 2013). What I learned was not reassuring. A cursory review of some public records requests of our county's investment portfolios revealed the following: (1) the investment policy used by the county is woefully outdated; (2) current investments do not follow fundamental investing and asset management principles. The lack of a sound investment policy would be alarming in its own right. No rational person would dream of ignoring their investment plans for over a decade." More here. (Photo by Duane Rasmussen: Steve Matheson talks during Reagan Republican luncheon)
Archives:
Question: Who do you think is more qualified for the treasurer's position -- Deputy Treasurer Laurie Thomas or Steve Matheson?
---
---