THURSDAY, APRIL 3, 2014, 4:03 P.M.
Get Out! Review: Thai Kitchen
For those who've been hungering for an OTV/Get Out! North Idaho ... enjoy:
We were lucky our timing was at least right enough to actually get a table. It was only about 11:20 am but people were already filling up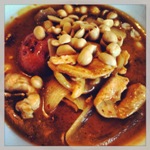 the place like a cat house on free tuna day. Here's the thing we figured out later on: Thai Kitchen has weird, limited lunch hours (11 am - 1 pm, M - F), so what regular patrons do is call ahead earlier in the morning, place their orders ahead of time, and let the staff know what time they'll be showing up to eat. That way, their meal is brought out pretty much right when they pull off their jackets and sit down. Being a small place with limited hours, Thai Kitchen likes to get 'em in and get 'em out fast. So we're sitting there seeing all these folks that were sat WAY after we were sat have their food brought out to them right away and where in fresh hell is OUR lunch? More here.
Question: How often do you eat out in Spokane Valley or Spokane?
---
---