Thu., April 3, 2014, 4:54 p.m.
Letterman To Retire
"Late Show" host David Letterman announced his plans to retire "sometime next year," CBS said Thursday. The 66-year-old comedian,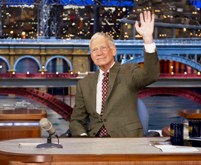 who began his late-night career in 1982 when he became the NBC "Late Night" franchise's first host, made the announcement during a taping of Thursday night's show, CBS said. "For 21 years, David Letterman has graced our Network's air in late night with wit, gravitas and brilliance unique in the history of our medium," CBS Corporation President and CEO Leslie Moonves said in a statement. "During that time, Dave has given television audiences thousands of hours of comedic entertainment, the sharpest interviews in late night, and brilliant moments of candor and perspective around national events/Fox News. More here. (AP file photo)
Question: Who should replace Letterman?
---
---