Thu., April 3, 2014, 10:53 a.m.
Reed To Keynote KCTFHR Banquet
The Kootenai County Task Force on Human Relations Board announced today that Bruce Reed, Rhodes Scholar and former special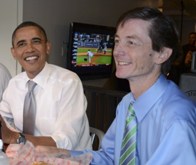 assistant for domestic affairs to President Bill Clinton and President Barack Obama, will be this year's keynote speaker at the 17th annual human rights banquet. His most recent public policy position was serving as Chief of Staff to Vice-President Joe Biden. He currently is serving as executive director to one of the leading non-profit educational foundations in America. "We have been fortunate to feature such prominent public officials as former Idaho Governor Phil Batt, Senator Mike Crapo, Mississippi Attorney General Jim Hood and now Reed as our banquet keynote speakers," said KCTFHR president Christie Wood. More here. (AP file photo: Bruce Reed is shown with President Obama in 2011)
Question: Have you ever attended the annual banquet of the Kootenai County Task Force on Human Relations?
---
---