Thu., April 3, 2014, 8:46 a.m.
Wasden: Idaho GOP Fighting For Soul
The intra-party squabbling ahead of Idaho's closed May 20 primary election is really a contest between fantasy and reality, according to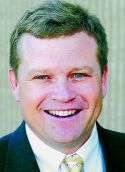 the state attorney general. "It is a fight, really, for the heart and soul of the Republican Party," Lawrence Wasden said Wednesday. "Are you out there on that far edge, or are you rational? I certainly hope that the rational message comes forward."Wasden is being challenged in the primary by Eagle attorney C.T. (Chris) Troupis for the right to run in the November general election. During a visit to Lewiston, Wasden said Troupis is part of a "pack" of fringe members of his party running primary campaigns. They include gubernatorial candidate and state Sen. Russ Fulcher, secretary of state candidate and state Rep. Lawerence Denney, superintendent of public instruction candidate John Eynon and controller candidate Todd Hatfield/Joel Mills, Lewiston Tribune. More here.
Question: Wasden must be one more of those dang "libruls" who are ruining the purity of the Idaho Republican Party, right? ;-)
---
---