Fri., April 4, 2014, 8:57 a.m.
Animals At Fairgrounds In Limbo
When an 8-year-old girl and 139 animals were removed from an Athol home by sheriff's deputies in January, the animals were taken to the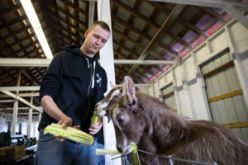 only place that could house them - the Kootenai County Fairgrounds. In the months following the animals' arrival, no decision has been made by the county prosecutor's office on whether or not to prosecute their owners. With a series of events scheduled to begin at the fairgrounds starting in May, the animals might soon be looking for new homes. At the end of February, Dane Dugan, Kootenai County Fair general manager, said he informed the county that the fairgrounds could only keep the animals on site through April 25/Keith Cousins, Coeur d'Alene Press. (Coeur d'Alene Press photo by Gabe Green: Galen Crofut feeds stalks of celery to goats while visiting the animals being housed at the North Idaho Farigrounds)
Question: What would you do with the animals?
---
---