Fri., April 4, 2014, 8:51 a.m.
Deteriorating Mural Worries Post Falls
Post Falls has reopened the case of the deteriorating wall mural. Within months of the new City Hall opening in 2008, the paper wall mural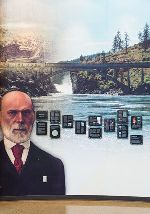 of town founder Frederick Post inside the rotunda showed signs bubbling, tearing and peeling. A fundraiser was launched in 2011 to replace the mural with a different one made of tile similar to those at the chamber of commerce next door, but the effort fizzled. Mayor Ron Jacobson this week brought the campaign back to the table to solicit city council input on how to proceed, if at all. A total of $2,100 in donations has been collected by the city for a replacement mural, and the council opted to forge ahead with the project. Jacobson said it was time to either give the money back to the donors or proceed in searching for a mural design and material that could keep the bothersome echo inside the rotunda as limited as possible/Brian Walker, Coeur d'Alene Press. More here. (Coeur d'Alene Press photo)
Question: What would you do if you were Mayor Jacobson?
---
---