FRIDAY, APRIL 4, 2014, 11:28 A.M.
Rand Paul To Address Idaho GOP
Kentucky Republican Sen. Rand Paul, pictured, who tops the latest poll of Republican presidential hopefuls for 2016, will deliver the banquet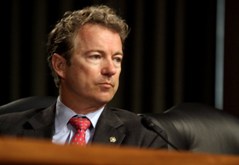 address at the Idaho Republican Party's state convention on June 13. Idaho GOP Chairman Barry Peterson said Paul was invited by Idaho 1st District Congressman Raul Labrador. "It's a big deal," Peterson said, adding that he believes Paul's interest in Idaho was sparked in part by the GOP's new county caucus system for picking presidential delegates to the national convention. The caucus was first used in 2012, with Mitt Romney winning all the Idaho delegates. Paul polled 16 percent in a CNN/ORC poll last month, the latest public poll measuring early GOP support for the 2016 nomination/Dan Popkey, Idaho Statesman. More here. (AP file photo)
Thoughts?
---
---