Mon., April 7, 2014, 8:30 a.m.
Foe Attacks Morse On Obamacare
State Rep. Ed Morse's challenger Eric Redman believes Morse is a moderate who was wrong to support a state health insurance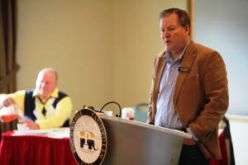 exchange. The two took part Friday in a Republican primary candidate forum at the Red Lion Templin's Hotel, hosted by the Panhandle Pachyderm Club. Redman, of Athol, is a retired insurance company owner and past president of the North Idaho Chapter of the National Association of Health Underwriters. According to Redman, there are many ways to improve the nation's health care system, and "Obamacare" is not one of them. "I'm very passionate about that area," Redman said. Redman supports medical procedure cost transparency, which would allow consumers of health care to shop around. He also wants to see secure digital records that follow the patient/David Cole, Coeur d'Alene Press. More here. (Coeur d'Alene Press photo: Rep. Ed Morse speaks to the Panhandle Pachyderm Club Friday)
Question: Obviously, conservative hardliners running for the Legislature from Kootenai County believe that incumbents, like Morse, who backed the state health exchange (as Gov. Otter did) are vulnerable. Does this issue matter to you?
---
---