Mon., April 7, 2014, 3 p.m.
Lake City Begins Police Chief Search
A 14-member committee assembled by Mayor Steve Widmyer and representing a broad range of community leaders and law enforcement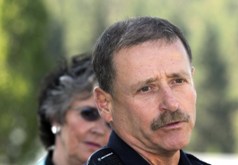 officials has formalized the job announcement criteria for selecting a new Coeur d'Alene police chief. The nationwide search for a new chief includes a regional emphasis with advertising in several online law enforcement and public safety publications, local media, and the city's website. Mayor Widmyer said he expects the City Council to appoint the new chief this summer. "The selection committee worked diligently to formulate a comprehensive job description to fill this critical role," Widmyer said. "I applaud each member for their commitment to this important process." Former Chief Wayne Longo retired October 1 after six years leading the department. Since that time Capt. Ron Clark has served as interim chief/Keith Erickson, Coeur d'Alene Today.
More here
. (SR file photo: Jesse Tinsley)
Question: We all agreed that this person needs to be from the region?
---
---