Mon., April 7, 2014, 4:29 p.m.
Noah & Capt America: Bible Heroes?
Noah and Captain America. Two opening days. Two "super heroes". Two tales of mayhem - one sorta real. One, maybe not so sorta real.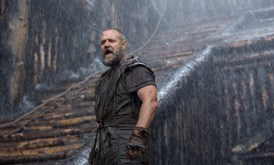 In truth, "Noah", is fascinating entertainment - and in parts, JUST as historical as "Cap's" story. If we as a culture need fiction-based-on-factual heroes (or vice-versa) to keep us motivated, both these films can do the job. If we as a culture don't need to be motivated and instead we need something else - something spiritual - then neither of these films were intended to do that -- and probably won't. Over the years, I've learned to NOT seek entertainment from God's Word. Truth? You bet/Dennis Mansfield. More here. (AP/Paramount Pictures photo)
Question: Why would anyone expect Hollywood to make a movie that sticks close to a biblical story line? I might see "Noah" because I like action movies & special effects. I suspect the movie will provide both. But I'm not expecting it to come anywhere close to the Genesis account. Are you?
---
---