Tue., April 8, 2014, 8:17 a.m.
18 Speak At NIC Forum
There are clearly two types of Republicans running for state legislative seats on the primary ballot this May. Eighteen candidates turned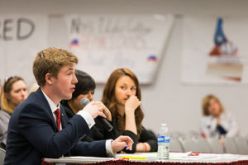 out Monday night to discuss state legislative issues at a political forum hosted by the North Idaho College Young Republicans and the Kootenai County Reagan Republicans. All of the candidates aligned themselves with one of two sides on the issues: Those who want to resist and repeal federal involvement in state politics, and those who don't like federal involvement, but say the state still needs to deal with it. Issues such as Common Core education performance standards and the Affordable Care Act, or Obamacare, dominated most of the discussions between candidates. In Legislative District 2-A, incumbent Rep. Vito Barbieri said his main priority is to repeal Obamacare/Jeff Selle, Coeur d'Alene Press. More here. (Coeur d'Alene Press photo by Shawn Gust: Moderator Luke Kilcup, state chairman of Idaho's Federation of College Republicans, poses a question to legislative candidates during Monday's forum)
Question: The battle lines seem clearly drawn in the races. For the Rally Right/UCNI/NW Property Owners Association side, it's Vick, Barbieri and Redman (District 2), Nonini, Mendive & Cheatham (District 3), and Souza, Sims & Schindelback (District 4). For the Reasonable Republicans, it's Morse & Wiedenhoff (District 2), Whalen, Werner & Gfeller (District 3), and Goedde, Malek & Currie (District 4). Dunno which camp Jeff Ward fits into in District 3. Do I have this right?
---
---