Tue., April 8, 2014, 8:25 a.m.
Gonzaga's Graves Going To Oregon
In a bid to transform its women's basketball program into a Northwest power with yearly NCAA Tournament expectations, Oregon hired a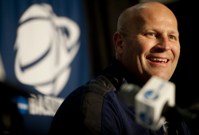 coach who spent the last 14 years doing exactly that.Kelly Graves, 51, left a highly successful tenure at Gonzaga for Oregon on Monday evening, where he will have a six-year contract, the university announced. Salary terms were not yet disclosed by the university. Graves will be formally introduced in a press conference Tuesday morning at Matthew Knight Arena, two days after he met Ducks players at the arena during his interview in Eugene. He then returned to Gonzaga's campus in Spokane, Wash., on Monday to meet with the private university's athletic director and president, before ultimately choosing Oregon/Andrew Greif, Oregonian. More here. (SR file photo)
Thoughts?
---
---