Tue., April 8, 2014, 11:32 a.m.
Hank Aaron: The Last Hero
I think he may be the greatest baseball player ever. I've always thought that. He still has – and likely will for a long time have – the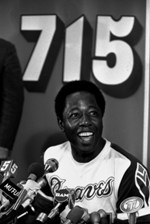 legitimate record for most home runs in a career. An astounding 755 and he never hit more than 47 in any one season. Across 23 seasons he was the soul of consistency. All those home runs, a career batting average of .305, he led the league in RBI's four times and averaged 113 runs batted in over a long, long career. He made it to the post season three times and hit .393. He had all the tools – hit for power, hit for average, run, throw and field his position. The complete package. The real deal. Throwing a fastball buy him, the pitcher Curt Simmons once said, "was like trying to sneak a sunrise past a rooster." He was that good. Tonight in Atlanta the Braves will remember that cold spring evening 40 years ago today when he broke the most storied record in baseball, the Babe's record that is now his record/Marc Johnson, The Johnson Post. More here. (AP file photo: Aaron speaks at press conference after hitting his 715th home run on April 8, 1974)
Question: I admire Aaron. But I think Willie Mays was the best ball player. Ever. Which ballplayer would you say is the best ever?
---
---