Tue., April 8, 2014, 9:10 a.m.
Idaho On Notice After Lynx Trapped
Three conservation groups plan to sue the state of Idaho over its trapping regulations, saying they don't do enough to prevent incidental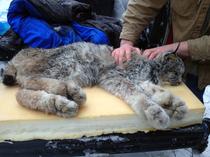 trapping of federally protected Canada lynx. Surging prices for bobcat pelts, driven by demand for fur in Asia, have led to an increase in recreational trapping in the state, according to the 60-day notice of intent to sue filed Monday by the conservation groups. At least three lynx have been caught by bobcat trappers in the past two years, with the most recent incident occurring in January in the Cabinet Mountains. Two of the lynx were released alive; one was killed after the trapper mistook it for a bobcat/Becky Kramer, SR. More here. (Courtesy photo: Michael Lucid)
Question: Am I the only one who has trouble with the concept of recreational trapping?
---
---