Tue., April 8, 2014, 3:37 p.m.
Taco Bell Targets 'Old McDonalds'
McDonald's is starting to look like Taco Bell's private punching bag. Monday afternoon, the feisty Mexican fast-food chain, eager to attract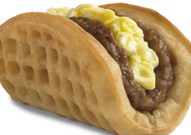 attention — and customers — for its new breakfast platform, planned to release yet another commercial that makes McDonald's the butt of its running breakfast joke. This time, McDonald's gets skewered in a lampoon version of the song Old MacDonald Had a Farm. While the Taco Bell ads seem like fun and games, they are very pointed attempts to steal attention — and market share — from the incredible lock that McDonald's has on the $50 billion fast-food breakfast business. For Taco Bell, it's all about garnering attention and social media buzz/USA Today. More here. (AP file photo: Taco Bell's waffle taco, which includes scrambled eggs, sausage and a side of syrup)
Question: Has the Taco Bell commercials made you curious re: its breakfast offerings?
---
---