Tue., April 8, 2014, 5:16 p.m.
They're Going To Kill Off Archie!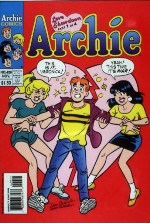 Not even Archie Andrews is immortal in the world of comics. Archie Comics says the famous comic book character will heroically sacrifice himself while saving the life of a friend in a July installment of "Life with Archie." The comic book series tells the story of grown-up renditions of Archie and his Riverdale gang. Archie's final moments will be detailed in "Life with Archie" No. 36, while issue No. 37 will jump forward a year and focus on his friends Jughead, Betty, Veronica and Reggie honoring the legacy of their red-headed pal, who first appeared in comics in 1941/Associated Press. More here. (AP file photo)
Question: Is this a good way to end one of the all-time comic book characters?
---
---