TUESDAY, APRIL 8, 2014, 3:23 P.M.
'Under God' Pledge Sent To Media
Of the 400 pieces of legislation enacted by the Idaho Legislature this year – 357 bills and 43 resolutions or memorials – just one required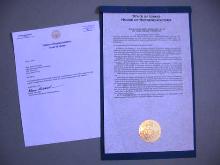 specifically among its provisions that copies of it be furnished to the Idaho Capitol Correspondents, who are the reporters credentialed to cover the legislative session. I know, because, having toiled as chairman of the correspondents association for some years, I have never before been called upon to assist the Chief Clerk of the House of Representatives in performing this solemn duty. The measure in question? It's HCR 38, a concurrent resolution by freshman Rep. James Holtzclaw, R-Meridian, commemorating 2014 as the 60th anniversary of the addition of the phrase "under God" to the Pledge of Allegiance/Betsy Russell, Eye on Boise. More here. (Photo: Eye on Boise)
Question: When did you last say the "Pledge of Allegiance"?
---
---