Wed., April 9, 2014, 1:13 p.m.
20 Hurt In School Stabbing Spree
A teenage boy wielding two kitchen knives went on a stabbing rampage at his high school in Murrysville, Pennsylvania, early Wednesday,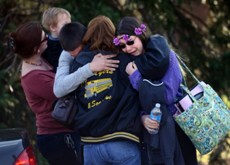 before being tackled by an assistant principal, authorities said. At least 20 people at Franklin Regional Senior High School, about 20 miles east of Pittsburgh, were injured and the accused attacker -- a 16-year-old sophomore -- is in custody, Police Chief Thomas Seefeld said. The carnage began in the school hallway shortly before the start of classes, with the accused allegedly going from classroom to classroom. A doctor who treated six of the victims said most of them didn't immediately know what happened. "They just felt pain and noticed they were bleeding," Dr. Timothy VanFleet, chief of emergency medicine at the University of Pittsburgh Medical Center, told CNN's Ashleigh Banfield/CNN. More here. (AP photo: Parents and students embrace along School Road near Franklin Regional High School)
Thoughts?
---
---