Wed., April 9, 2014, 10:09 a.m.
CPD Seeks Missing Lake City Man
Coeur d'Alene Police officers are currently seeking information on a missing person. Carol Bartlett reported she discovered her husband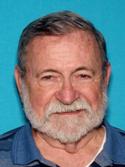 Ronald Eldon Bartlett, 76, missing from their residence on today's date. Carol stated she woke her husband just after midnight to tell him to go to his bed to sleep. He had been sleeping in his easy chair in the living room. She reminded him of a doctor's appointment he has this morning and went back to bed. Carol said that instead of Ronald going to bed he may have been confused and left for his doctor appointment in Spokane. When Carol woke up this morning she realized he was gone. Officers have checked with the doctor's office and Ronald has not arrived there. He is driving a silver 2001 Honda Accord, license # K42172. Anyone with information on the whereabouts of Ronald Bartlett is asked to call Coeur d'Alene Police at 208-769-2320/Sgt. Christie Wood, Coeur d'Alene Police Department.
---
---