Wed., April 9, 2014, 10:35 a.m.
Gookin: Locals Think They're Feds
In a letter to the Coeur d'Alene Press editor, Councilman Dan Gookin writes today: "Based on their literature and campaign slogans, one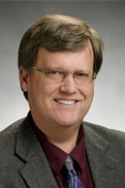 would think that our cadre of local GOP candidates are actually running for Congress instead of the state house. Their obsession with Obamacare is based on the assumption that a state legislator can change it, or that the mere mention of the term guarantees them angry votes. That's wrong, either way. I'm not pleased with the Affordable Care Act, but it's the law. I would prefer candidates who are willing to govern instead of those who are better fit to be taking pot shots on a radio talk show, ranting on a blog, or screaming into a Tea Party microphone. Idaho and Kootenai County face major issues. These issues, generally ignored by our Legislature, include mental health care, criminal transition facilities and government corruption. I'd like to see more local control." More here.
DFO: Dang it, I agree with Gookin.
Thoughts?
---
---