Wed., April 9, 2014, 8:06 a.m.
Idaho Court Hears Camp Easton Case
The Boy Scouts of America has no plans to sell or swap Camp Easton on Lake Coeur d'Alene. In fact, the organization's Inland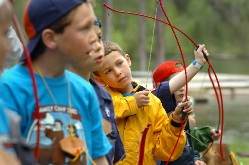 Northwest Council wants to invest in upgrades there, and topping the list is a pedestrian tunnel under state Highway 97. "We're going to further develop what we have right where we're at. And that's our complete plan for the future," Boy Scouts Council Executive Tim McCandless said. But a legal challenge to the council's authority to one day sell or trade the property at the heart of the camp is in its third year. Now it's in the hands of the Idaho Supreme Court, which heard arguments Tuesday centering on the 85-year-old donation of land that established the popular camp on Gotham Bay/Scott Maben, SR. More here. (SR file photo: Cub Scouts at Camp Easton archery range)
Question: Have you ever been to Camp Easton?
---
---