Wed., April 9, 2014, 5:13 p.m.
Zombie Show Set For Local Filming
This week SyFy announced it ordered a new zombie TV show called Z Nation — and it's going to be filmed here in Spokane. Big Fish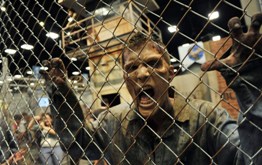 NW Talent is looking for hundreds of Spokane-area extras for the 13 episodes, and they're casting for a "variety of sizes, shapes & colors." Those who are interested should register with them here. Z Nation is from the same production company that introduced the world to Sharknado, so expect a different tone than, say, The Walking Dead. SyFy describes it as a "unique new journey into the long-established zombie genre" that offers hope instead of "existential despair"/Lisa Wanaanen, Bloglander. More here. (AP file photo)
Question: Why would you make a good zombie for a TV series?
---
---