Thu., April 10, 2014, 2:18 p.m.
Man Not Guilty Of Killing Car Thief
Ann Kaluza pauses to remember her grandson Brendon Kaluza-Graham in the hallway of the Spokane county Courthouse today, after a jury acquitted Gail Gerlach of manslaughter in the shooting death of Kaluza-Graham in March 2013. (SR photo: Dan Pelle)
Gail Gerlach, pictured in SR file photo, was acquitted of manslaughter charges today stemming from the fatal shooting of a car thief.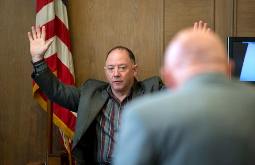 Gerlach, 57, fired a single round from his handgun through the back window of his 1997 Chevrolet Suburban on the morning of March 25, 2013. The bullet struck the thief, 25-year-old Brendon Kaluza-Graham, in the back of his head just above the hairline, severing his spine and killing him "almost instantly," according to a medical examiner's report. The SUV was filled with Gerlach's plumbing tools and was idling in the driveway of his Chief Garry neighborhood home when Kaluza-Graham got in and sped away. Jurors were told to first consider the charge of first-degree manslaughter, which requires an element of recklessness. A charge of second-degree manslaughter was offered in the alternative, which requires that the defendant be criminally negligent in the killing of another person/Spokesman-Review.
Question: Do you agree/disagree with verdict?
---
---