Thu., April 10, 2014, 1:17 p.m.
Hospice House North Opens In April
An oasis of peace is poised to open just off bustling North Division Street. Soon, Hospice House North will welcome its first patients.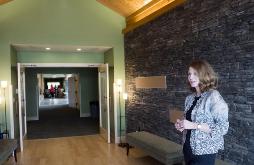 Since 1977, Hospice of Spokane has provided care and support for the terminally ill and their families. Serving Spokane, Ferry, Stevens and Pend Oreille counties, the organization's mission includes honoring the dignity of the terminally ill, educating the community about end-of-life issues and offering bereavement counseling services and support. "Approximately 285 patients are served on any given day," said Gina Drummond, CEO of Hospice of Spokane. Northeast Washington's first Hospice House opened in 2007 on the lower South Hill. While the majority of Hospice patients receive in-home care, Hospice House offers a safe harbor; it's a place where families can leave the caregiving duties to staff, and focus on being with their loved ones/Cindy Hval, SR. More here. (SR photo by Jesse Tinsley: Hospice of Spokane CEO Gina Drummond stands in the reflection room)
Question: Have you had experience with Hospice? Thoughts?
---
---