Thu., April 10, 2014, 5:09 p.m.
Woman Throws Shoe At Hillary
A woman was taken into custody after hurling what she said was a shoe at Hillary Clinton during a Las Vegas speech — and the former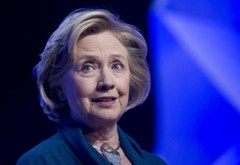 secretary of state was quick with a witty comeback. The bizarre incident happened just moments after Clinton took the stage Thursday at an Institute of Scrap Recycling Industries meeting at the Mandalay Bay Hotel & Casino. The former first lady, 66, ducked, but did not appear to be struck by the flying object. She quickly joked about the incident. Clinton quipped: "Is that somebody throwing something at me? Is that part of Cirque du Soleil?"/Associated Press. More here. (AP/Las Vegas Sun photo)
Question: Who throws a shoe at someone?
---
---