Thu., April 10, 2014, 1:13 p.m.
WW2 Vet Finally Gets Purple Heart
It took almost 69 years, but Henry Lloyd Phillips finally received the Purple Heart and other medals he earned as a young private during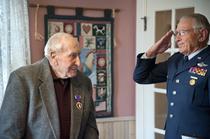 World War II. Friends and family filled his Spokane Valley living room on Friday to watch as Col. Chuck Lehman USAF (Ret.) pinned the Purple Heart to Phillips' lapel. "I'm receiving this medal today because my friend Brian Isaac started on a mission," Phillips, 90, said. The two met when Isaac asked permission to bow hunt on Phillips' property. They became friends and when Phillips shared his World War II experiences, Isaac asked to see his medals. Phillips shrugged. "I never got 'em"/Cindy Hval, SR. More here. (SR photo by Dan Pelle: Col. Chuck Lehman USAF (Ret.), right, salutes Lloyd Phillips after Lehman presented Phillips the Purple Heart for his service during World War II in Urbach, Germany, in 1945)
Question: Do you have a relative who won a Purple Heart?
---
---