Fri., April 11, 2014, 11:46 a.m.
ATVs: Unsafe At Any Speed?
For a disabled child found abandoned on a street corner in China at age 4, Guo Biao was doing pretty well by last fall. A teenager, he was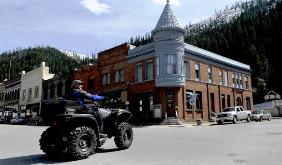 living with Dwayne and Sherri Bowman on their apple and cherry farm near Zillah, Wash. He had a family and a new name: Zeke Bowman. For the first time, he got a hearing aid for his deformed ear. And then last October, Zeke climbed aboard one of the Bowmans' four all-terrain vehicles, just as he'd done many times before at the end of a day in the orchards. He headed down a two-lane country road called Lucy Lane. For reasons the Bowmans still ponder, he rear-ended a tractor and died that evening in the hospital. ATV tragedies like this – on roads, rather than backcountry trails where ATVs are designed to go – are widespread and have increased in recent years/Bridget Huber & Ashley Stewart, FairWarning & InvestigateWest. More here. (Photo: An ATV rider in downtown Wallace Tuesday)
Question: How often do you ride ATVs? Have you ever crashed one?
---
---