Fri., April 11, 2014, 8:42 a.m.
Coldwater Creek Files For Bankruptcy
The women's clothing retailer Coldwater Creek has filed for Chapter 11 bankruptcy protection after failing to find a potential buyer or a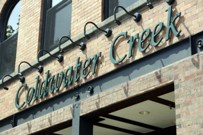 source of capital to help fund its turnaround efforts. Coldwater Creek said Friday that its stores and its website are still open and selling clothing and other goods to shoppers. But it expects to start sales to liquidate its inventory in early May. It plans to hold going out of business sales in the coming months. The chain said it spent the past six months evaluating its options, but that its declining financial resources, tough retail conditions and its inability to find other viable options drove it to file for bankruptcy protection/Associated Press. More here.
Question: Are you a regular customer of Coldwater Creek?
---
---