Fri., April 11, 2014, 4:14 p.m.
Nevada Rancher-Federal Fight Erupts
A 20-year dispute between a Nevada rancher and federal rangers over illegal cattle grazing erupted into an Old West-style showdown on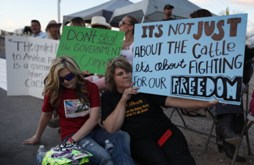 the open range this week, even prompting self-proclaimed members of militia groups from across the country to join the rancher in fighting what they say is U.S. "tyranny." What began as a legal fight between longtime rancher Cliven Bundy and the U.S. Bureau of Land Management has escalated as Bundy kept his cattle on the federal land, and the government has responded by beginning roundups of the livestock. A confrontation teetered on violence Wednesday when Bundy family members and dozens of supporters angrily confronted a group of rangers holding Tasers and barking dogs on leashes near Bunkerville, about 80 miles northeast of Las Vegas/CNN. More here. (AP/Las Vegas Review Journal photo: Krissy Thornton, right, and Burgundy Hall protest with others near Bunkerville, Nev. Wednesday)
Question: Will something like this happen in Idaho, too?
---
---