Mon., April 14, 2014, 8:21 a.m.
Pit Bull Attacks Reopen Debate
In just seven days, three pit bull attacks in Spokane left a young girl and several adults bloodied and scarred. Two of the dogs were shot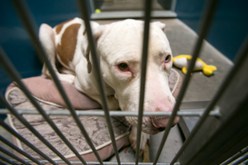 and killed by police, and a third awaits euthanasia. The cluster of attacks April 3-9 has recharged a decades-old debate about the pit bull: Is it dangerous or more prone to bite? Are such attacks to be blamed on negligent owners? And should the city restrict or even ban pit bulls? Carrie Connerley saw what one pit bull was capable of doing and just how hard it was to stop. Her husband, Jason, was bitten in the leg during the first of the recent attacks, when he and two other men raced to help an 8-year-old girl being mauled by a pit bull next door. He smacked the dog repeatedly with a shovel. The girl and one of the other men were badly torn up/Scott Maben, SR. More here. (AP file photo)
Question: Do you now or have you ever owned a pit bull? Was it a good dog?
---
---