Mon., April 14, 2014, 1:08 p.m.
Wannabe: Donate To Schools, Not Me
State schools superintendent candidate Randy Jensen says he doesn't want money from his supporters. Instead, the says he'd like to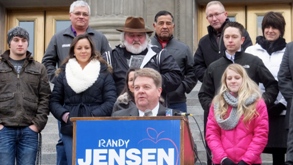 see supporters donate to the school of their choice — and take advantage of several state and federal tax breaks in the process. "For the same out-of-pocket expense someone can donate $500 to a school or $100 to my campaign," Jensen, an American Falls principal, said in a news release Monday. "I would rather a school of the donor's choice get $500." Jensen points out that a state school tax credit can cover up to 50 percent of an individual, family or corporate donation to a school. Other tax credits and deductions can further reduce the out-of-pocket cost/Kevin Richert, The EDge. More here. (Photo: IdahoED NEWS)
Question: What do you make of candidate Jensen's proposal to followers -- to contribute to schools rather than his campaign?
---
---