Tue., April 15, 2014, 11:25 a.m.
KCSD Seeks Violent-Assault Suspect
The Kootenai County Sheriff's Office is seeking assistance from anyone that may know the whereabouts of Terry Andrew Clark, 25, of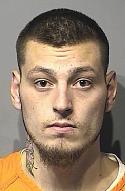 Coeur d'Alene. Early Saturday morning, Clark was attending a large outdoor party in the area of Old Highway 95 and Brunner Road, south of Athol. During the party, Clark became violent with other party goers. When deputies responded to the location, most of the attendees had left the area, including Clark, whom reportedly fled the area on foot. Witnesses and the victims reported that Clark began hitting people with a handgun; four victims were taken to Kootenai Health for treatment, including surgery. All the victims had significant facial injuries that were consistent with the allegations that they were assaulted with an impact type weapon/Kootenai County Sheriff's Department. More here.
---
---