Tue., April 15, 2014, 1:53 p.m.
Mansfield Endorses Fulcher For Guv
Idaho's sitting Governor, Butch Otter, and I have known each other for 23, almost 24 years. Many of those years have been friendly years -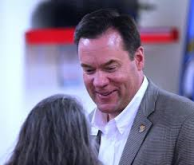 only distancing ourselves for a brief period of time when one another got in the way of the other's mutually-desired GOP nomination to US Congress - a dozen-plus years ago. He won. I endorsed him the very next day and worked to see him get elected three times as Congressman and then twice as Governor. I have a deep affection and fondness for Butch and Lori Otter. I also have a deep, decades-long friendship with Russ Fulcher and his family. I write about Russ in my book BEAUTIFUL NATE. Originally, since neither candidate had asked for my endorsement I withheld it. I just sat and watched - until this week. Maybe it was today being Tax Day, maybe it was just my nature to think long and then act...Today I decided to act and endorse State Senator Russ Fulcher for the GOP nomination for Governor of Idaho/Dennis Mansfield. More here.
Question: What will be the impact of this endorsement?
---
---