Wed., April 16, 2014, 8:28 a.m.
Balukoff Faces Down NRA Bullies
Here's something you don't see every day: An Idaho politician who isn't merely running against a foolish gun measure - the guns on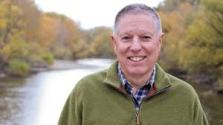 campus law - but one who is taking on the group responsible for it, the National Rifle Association. Last week, A.J. Balukoff, pictured, a Democrat seeking the Idaho governor's office, threw the NRA's questionnaire back in the gun lobby's face. He didn't like the loaded questions. The NRA wasn't shy about telegraphing its position and then putting candidates in an "our way or the highway" bind. And Balukoff more or less disqualified himself from getting the NRA's support by opposing its signature measure in the 2014 Legislature -- a bill giving students 21 and older the right to carry a firearm into class and across much of the state's public college campuses/Marty Trillhaase, Lewiston Tribune. More here.
Question: Are you paying attention to Democrat A.J. Balukoff's candidacy for governor?
---
---